Explore the Thrilling MTB Adventure at Bernadia Trail Area!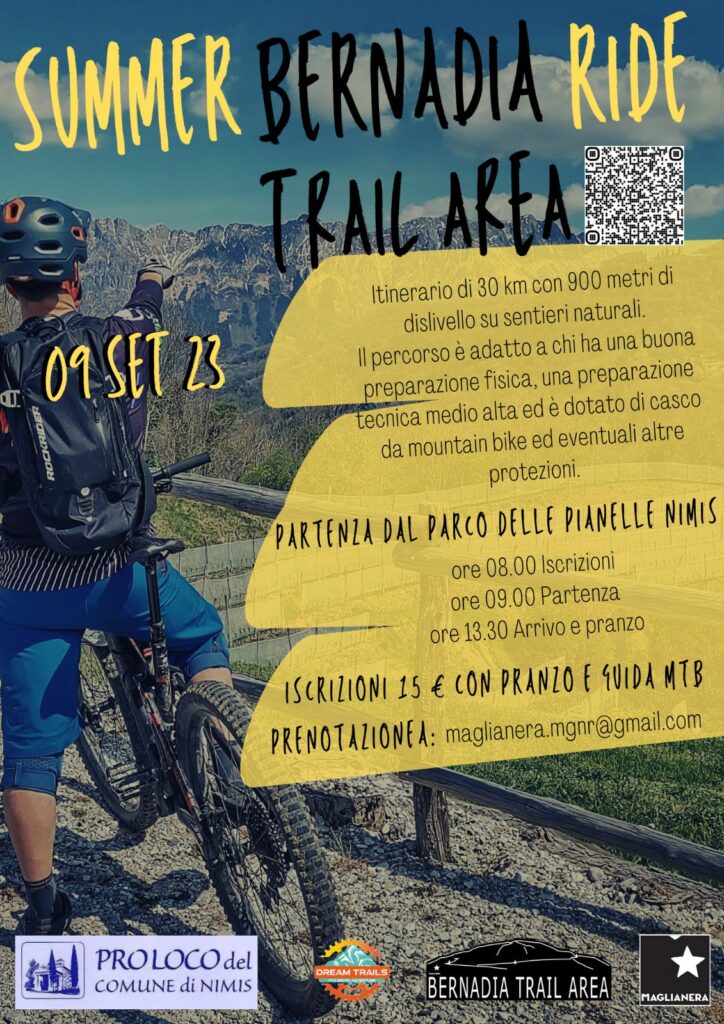 We welcome you on September 9th in Nimis for an unforgettable mountain biking experience at the stunning Bernadia Trail Area. This incredible two-wheeled adventure will take place on the picturesque Monte Bernadia, a true haven for offroad cycling, transformed thanks to the passion and dedication of the Maglianera group of enthusiasts.
Immerse yourself in untouched nature and tackle a 30 km route with 900 meters of elevation gain, entirely traced on natural trails. The Bernadia Trail Area, born from the remarkable work of the Maglianera Trail Builders, now offers a perfectly maintained trail network tailored for offroad cycling. This area has become the ideal location to test your technical skills and physical fitness in a breathtaking setting.
If you're a cyclist with good physical preparation and medium-high technical skills, this challenge is perfect for you. Make sure to wear your mountain biking helmet and all necessary protections to fully enjoy the experience safely.
Event Details:
Starting Point: The meeting point is the picturesque Parco delle Pianelle in Nimis, where the adrenaline will start flowing.
08:00 AM: Registrations will be open to secure your spot in this extraordinary adventure.
09:00 AM: Get ready for the departure, as you kick off your journey through the stunning trails of the Bernadia Trail Area.
01:30 PM: After challenging yourself and nature, we'll reach the finish line. It's now time to enjoy a well-deserved lunch with fellow participants and share the emotions of the day.
Registration Details:
The registration fee for this unique experience is only €15, which includes not only participation in the event but also a delicious lunch to recharge your energy and share the day's adventures. Furthermore, you'll be guided by experts from Maglianera and Alessio from DreamTrails.it FVG BIKING ADVENTURE who know every corner of this area, ensuring you can enjoy the itinerary to the fullest.
To book your spot in this thrilling adventure, send an email to [email protected] and make sure not to miss this extraordinary opportunity.
Join us on September 9th for an MTB experience that will make you feel alive and leave you with lasting memories. The Bernadia Trail Area awaits you to challenge your skills and discover the pristine beauty of this unique territory. Don't miss out!