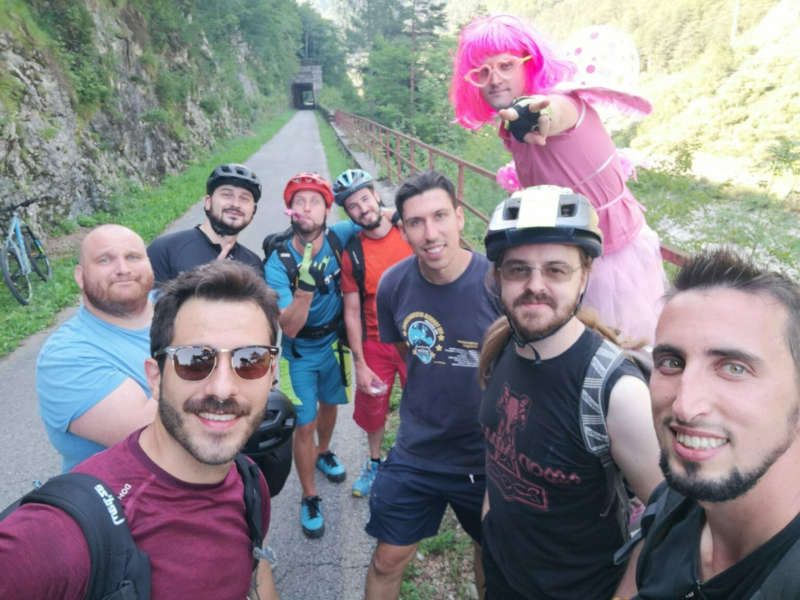 Duration
8 hours The duration indicates the total time of the experience, including any initial briefings, stops, return to the starting point, etc.
---
Activity in brief
Experience the bachelor and bachelorette party on a bike for the first time and discover an original way to celebrate.
You can move freely along the cycle path, away from traffic and surrounded by nature.
There will be several fun stages waiting for you to celebrate this event.
In the company of a bicycle touring guide, you can enjoy the experience in complete safety.
Bachelorette and bachelor party by bike: route development
Bachelorette and bachelor party by bike: alpe adria cycle path (FVG1)
What is it?
The Alpe Adria Cycle Route is a cycle route connecting Salzburg, Austria, to Grado, Italy.
Overview
The tour starts in Tarvisio Boscoverde, and the route runs along an old railway line that connects the entire Canal Del Ferro and crosses Italy's largest state forest. As we descend along the valley, we will find the old stations used as refreshment stops and thus valuable checkpoints for our adventure! The more we look around, the more we realise that we are in a magnificent place, surrounded by majestic mountains, green forests, old villages and a dozen fascinating waterfalls to admire. Some of these will even allow us to bathe! Along the way, the mighty Fella river will follow us to the confluence of Venzone, the award-winning "most beautiful village in Italy", before flowing into the Tagliamento.
The experience of the bachelorette and bachelor party by bike route
A totally relaxed ride that includes several stages along a comfortable and safe cycle path, with plenty of support for services, bars, restaurants and unique natural attractions along the way. You've never seen a party like this before and you won't forget it!
Dynamic route
A mostly downhill route that is suitable for everyone and presents no particular difficulty, fun and rewarding, it runs along an old railway line.
Tour data
46,4 km 12,8 km/h 370 m 787 m ~8h
Where
Comfortable arrival by train + bike from Udine train station
Departure by bike from Tarvisio Boscoverde and arrival in Resiutta
Return by train
Gallery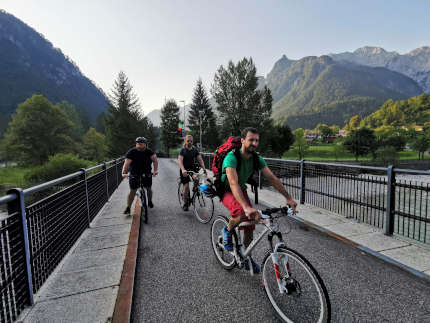 Book the tour
If you would like more information about this tour or if it simply struck you in a particular way, then what are you waiting for, contact me to schedule a date now!